Fermented Green Supremefood Reviews
Rank: 10/10
Description: Fermented green supreme food is the recommended by Dr. Colbert's New York Times bestselling book "Let Food Be Your Medicine".
It consists of fermented grass and vegetables that were easily digestible. It consists of more than 20 fermented organic vegetables, grasses, enzymes, and probiotics.
It is free from soy, gluten, Dairy. This is Non- GMO. This provides the body with a natural form of energy that neutralizes harmful free radicals
Pros: Fermented green supreme foods increase metabolism.
It enhances hormone production.
It increases the immune function.
It increases the overall health quality.
Cons: The only cons present is more sweetness in taste due to the presence of stevia.
Price: 39.99$.
Product Description.
Fermented green supreme foods mainly consist of fermented products. This fermented foods increase the bioavailability of nutrients in the food. It helps us to derive nutrients in the digestible form. This helps to consume good bacteria.
During fermentation, bacteria predigest the food that it breaks down the walls of the veggies. So by consuming that fermented food, nutrients and vitamins are easily absorbed by our body.
Who Made Fermented Green Supreme Food.
This was made by Dr. Don Colbert Newyork times best selling author. He is the founder of Divine health Foundation. He found a way to ferment vegetables in mass scale. He called Fermented Green Supreme food as "Breakthrough In Supplements".
Who Needed Fermented Green Supreme Food.
Those who want to live a healthy life, surely they need this product. Those who had the digestive problem, it helps to increase the nutrients absorption capability of your gut by increasing the good bacteria in the gut.
This good bacteria increases digestive power. Those who need health drinks, this would be the best health drink in the market now.
Fermented Green Supreme Food Ingredients.
Fermented Beets.
Fermented beets consist of more vitamin c then non- fermented beets. Raw beets consist of more sugar content. So it is not recommended to eat more raw beets. But Fermented beets consists of beneficial bacteria. This beneficial bacteria gobbled the sugar content in the raw beets and left the key healthy ingredients in the beets. Fermented beets consist of good bacteria helps to maintain a healthy physical, mental, and emotional level of human beings.
Pickled Beets.
It consists of potassium, magnesium, fiber, vitamin A. It is low in fat.
Fermented Carrots.
Carrots do not consist of saturated fats and cholesterol. But fermented carrots gives 60% of the daily allowance of vitamin A. Fermented carrots consists of probiotics or good bacteria which helps to improve digestion, brain functions, and immune system. Fermented carrots are easily digestible because it consists of cellulose, it is breakdown during fermentation. So it is easily digestible and nutrients are easily absorbed by the body.
Fermented Paisley.
Usually, vegetables contain carotenoids. But paisley contains twice carotenoids than carrot.
Besides the above vegetables, it contains collard greens, peas, kelp, kale, broccoli and spinach, and other fermented vegetables.
Fermented Broccoli.
Fermented Broccoli rich in carotenoids. Carotenoids are antioxidant with more phytochemicals. It helps in protecting against macular degeneration. It helps in detoxification of the body. It helps to protect cell, tissues, and DNA from free radical oxidative damage. Maintains a healthy gut and maintain a microbial balance in the gut.
Fermented Spinach.
Fermented Spinach also consists of carotenoids. In addition to carotenoids, it also consists of flavones such as Apigenin and Luteolin. Apigenin helps to boost the body immunity naturally. Luteolin helps to boost body immunity and it also consists of anti-inflammatory properties and anti-viral effects.
Fermented Kale.
Fermented kale helps in detoxification, healthy cardiovascular system, maintain an acceptable cholesterol level, prevents damage caused by oxidative stress, improves digestive power, Anti- Aging effect, improves the immune system, it improves the health of the eyes, skins, hairs, and nails.
Fermented Kelp.
Fermented Kelp rich in anti-oxidants and anti-aging. It protects the amino acids damage and cell membrane. It prevents the formation of free radicals by reinforcing the cell membrane. Formation of free radicals is the main cause of the aging process. Thus it prevents the free radical formation. Fermented Kelp consists of proteins, vitamins, minerals, essential fatty acids, collagen, elastins, and anti-oxidants.
Fermented Pea Protein.
Fermented pea protein consists of a predigested protein that could be easily digested by the body. Its nutrients are easily absorbed by the body. It removes harmful bacteria. More protein absorbed by the body. Healthy gut could be promoted by the fermented pea protein. It reduces bloating.
Fermented cabbage.
Improves digestive system because it consists of lactobacillus bacteria and it is easily absorbed by the body. It helps to improve the immune system because lactic acid formed during fermentation of cabbage. It improves brain power because it consists of vitamin K. Healthy gut also responsible for the increase in brain power such as memory, learning, and organization because vagus nerve forms a communication between brain nerves and intestinal nerves.
Fermented cabbage improves mood because it consists of good bacteria. These good bacteria produce certain enzymes. These enzymes work with the chemicals in the brain such as dopamine and serotonin which controls the mood. Beneficial bacteria improve energy, reduce stress and provides good sleep. It reduces hunger. It had more antioxidant properties.
It consists of vitamin c which helps to repair body tissue by producing collagen a type of protein which helps in the formation of healthy blood vessels, tendons, cartilage, and ligaments.
From this, we could be understood that fermented vegetables supply more nutrients than Non-fermented vegetables.
Fermented Green Supreme Food Benefits.
Energy.
Organic green tea and digestive enzymes supply the body with more amount of natural energy.
Immunity.
Probiotic and organic antioxidants help to neutralize free radicals. These free radicals were harmful to our body.
Digestion.
Probiotics and digestive enzymes help to increase the digestive power of the body.
Weight Loss.
Fermented Green Supreme Food contain organic fiber that improves the satiety and help in maintaining a sufficient amount of glucose level in the body.
Detox.
Wheat, grass, spirulina, and chlorella consist of chlorophyll. This chlorophyll help to create alkaline nature in the tissue. This helps in optimizing detoxification.
How Fermented Green Supreme Food Made.
According to their manufacturer
It consists of vegetables and grass. It should be added to a vessel
And add prebiotic. Let we first clear about what is meant by prebiotic?
Prebiotic is one in which it is the non-digestible food ingredients that help in promoting the growth of beneficial good bacteria in the intestine. These good bacteria help in digestion
Here prebiotic added was organic molasses
After added prebiotic, probiotic should be added
What is meant by probiotic?
Probiotic is one in which the good bacteria that help to improve the digestion in the body. The Body consists of both good and bad bacterias. But probiotics was good bacteria that helps in maintaining a healthy gut.
Probiotic added in this mixture was  Saccharomyces Boulardii, Lactobacillus Plantarum
Water should be added and left it for 3-4 days
During the fermentation, prebiotic promotes the growth of probiotic. These good bacterias(probiotic) break down the walls of vegetables and grass. And it powdered. Nutrients are easily absorbed by the body when we consume this fermented green supreme foods. It increases the digestive power of the body.
Fermented Green Supreme Food Supplement Facts.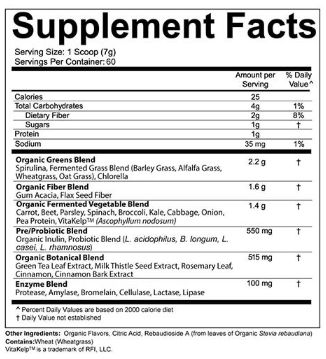 Fermented Green Supreme Foods- Consumption Time.
Each scoop of fermented green supreme foods contains 6 servings of vegetables. For better result, consume fermented green foods in the morning.
Do Fermented Green Supreme foods contain any side effects.
Absolutely nothing to say any side effects. But it would cause good effects on the body. It increases the metabolism and increases the digestion of the body. It is full of pure and natural vegetables and grasses. So it provides a body full of natural energy.
Does Fermented Green Supreme Food Scam.
No, If it would be a scam product, a customer would not give any good reviews for this product. Surely, this is one of the scam less product in the market now.
Does Fermented Green Supreme Food Worth To Buy.
Yes, it is worth to buy because we are looking for good health drinks for better results. But that cost was more. But it cost is less when compared to other products in the market. It yields better results. So it is worth to buy.
Fermented Green Supreme Food Amazon Customer Reviews.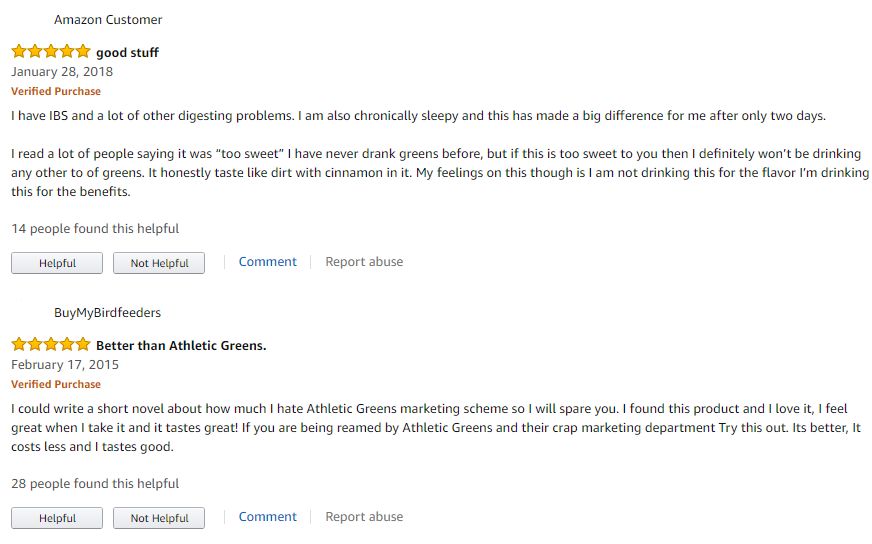 My Fermented Green Supreme Food Review.
As for my concern, it is the best natural health product in the market now. It is also the best- recommended health drink by those who used this product. I am also recommending to you because of lots of positive review from lots of customer review from Amazon.
Amazon is one of the best shopping sites for a worldwide customer. Now, this is the No.1 recommended natural health drinks in the market now. By seeing all the benefits, it is your time to change your life into an energetic one with natural supplements.
My Final Verdict.
"Health is not valued till sickness comes."
This is the time to maintain the health of the body. Try out fermented green supreme foods and live an energetic life with natural supplements.
Check out here
Fermented Green Supreme Food- Amazon.com