Rank: 8/10
Description: Macro Greens is a greens supplement that contains 38 ingredients with nutrient-rich. It is Non- GMO( Genetically Modified Organisms). It contains antioxidants, vitamins, minerals, amino acids, enzymes, and co-nutrients to nourish the body.
Macro Greens contains 18 billion probiotics, spirulina, barley grass and high alkalizing food. In order to ensure the bioactivity of the enzymes, it is precessed in the cold condition. Macro Greens is owned by Macro Life Naturals. This company had 20 years of experience in the production of superfood. It is a family-owned company in the United States of America.
Pros: Macro Greens consists of 38 nutrient-rich superfoods that provides all the necessary nutrients to the body. It contains 18 billion probiotics that help for better digestion and absorption of nutrients by the body. It contains alkalizing greens helps to alkalize the body and prevent many diseases.
Macro Greens provides the body with nutrient-rich fruits and vegetables. It helps to increase the energy of the body, immunity and helps to clean the body from toxins and it consists of herbal antioxidants to prevent the formation of free radicals. This free radical leads to heart attack, cancer, and many more diseases. It prevents to form free radicals.
Cons: Recent batch of Macro Greens, there is slight change in color, previously it is green in color, but recent batch is brown in color. Taste also changed. Previouly it taste like alfalfa hay and mild in taste and it is good in taste but recent batch is not good in taste. Most of the customer got disappointed with this change in the Macro Greens.
But Macro Greens president told that it is seasonal batches change in their color and taste and he assured that next lot would be same as that of the previous Macro Greens with green in color and good in taste with the same nutrition.
Most of the customers reported that the Macro Greens contains lead and it is warned in the Macro Greens container itself. But Macro Greens is the Californian based company. According to California's Proposition 65, it is California's state law, it should be compulsory to put this warning regarding lead.
It is applicable only to California state consumers, not other state consumers.
Macro Green's lead is the naturally occurring lead in the plant. It is water-soluble, the other one is a metallic lead that does not dissolve in the water. This metallic lead only harmful to the body. But water-soluble lead does not cause any ill effects to the body. After the required amount absorbed by the body, the excess amount of lead expelled out from the body.
Macro Greens is safe to consume and naturally occurring, water-soluble lead of Macro Greens does not cause ill effects to the body.
Guarantee: No Money-Back Guarantee
Price: $34.95
Product Description
I've been investigating super greens mixes for some time now and am yet to discover the brand and mix which most interests to me. Most of the items available appear, to me, to be generally costly or disappointingly low on data around ingredients.
So I was shocked to go over MacroLife Naturals Macro Greens, which (at the beginning at any rate) appear to be a great incentive for cash.
There are many ingredients in these greens powder supplements, a pattern you see in numerous items attempting to consider every contingency. The inquiry is will there be adequate sums here to have a lot if any impact?
In this way, we should hop in and check whether MacroLife Macro Greens is a contender for me day by day greens.
Sylia Ortiz-and Dr. WagnerTaking a gander at the MacroLife Naturals site I can promptly observe the intrigue of these items. The promoting is smooth, the back-story is convincing and the author has a setup wellbeing and wellness foundation.
Taking a gander at the tributes (which this organization calls 'examples of overcoming adversity') I can see that individuals relate to the brand and many acknowledge their item for either incredible gains in their wellbeing and prosperity or weight reduction. I give further detail in the 'reviews' segment beneath.
Discussing tributes – with this exploration this is something I presently anticipate that organizations should be straightforward and forthright with. I don't believe it's especially legitimate to just incorporate 'examples of overcoming adversity's nevertheless I can see that from a promoting point of view it gives a convincing individual edge to the clearance of this kind of item.
Underneath I'll investigate Macro Greens to perceive how it piles up.
Foundation on MacroLife Naturals
Before I set out on my Macro Greens review, we should investigate the organization overall. Established by 'wellness master', business person and dietary master Sylvia Ortiz, and upheld by Dr Edward Wagner, MacroLife Naturals have gotten famous for their 'Supernatural occurrence Reds' and 'Large scale Greens' equations.
Macrolife Greens and Red enhancements
You may have known about Ortiz – she spearheaded the 'Bounce back' practice marvel (exercises structured around the little trampoline currently found in each rec center), so she previously had a name for herself in wellbeing and prosperity.
Obviously the pair extended into health items thus MacroLife Naturals appeared.
Guaranteeing that the detailing of Macro Greens took her own child back to great wellbeing (having been overweight, discouraged and experiencing medical problems), the organization cases to now create one of the most famous greens mixes available.
MacroLife Naturals-Macro Greens Supplement Facts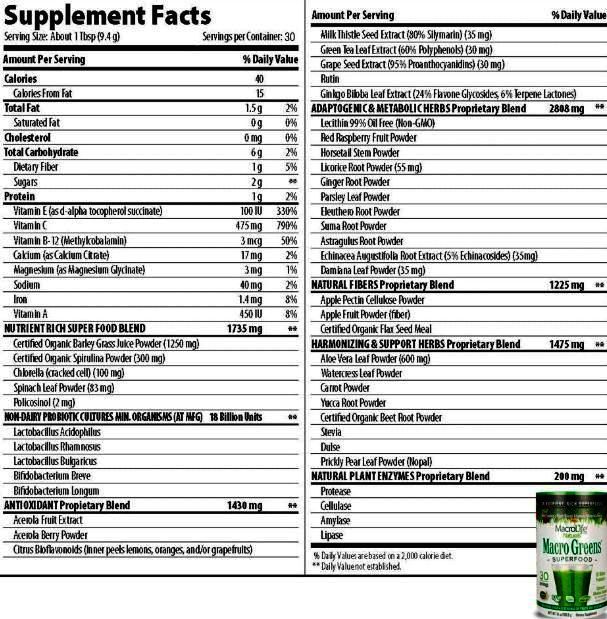 Fl Greens Superfood Ingredients
The feature for the ingredients and their cases are as per the following:
38 supplement rich superfoods
18 billion probiotics
Most extravagant soluble greens recipe
Contains 5+ servings of leafy foods
Lifts vitality and supports characteristic weight reduction
Supports sound invulnerability
Advances delicate every day purifying
Natural cell reinforcements; aloe vera, ginkgo, grape seed extricate
Casted a ballot "best tasting greens"
Non-GMO, vegetarian, gluten and without dairy
A serving is around 1 tablespoon (9.4g) and the thirty-eight superfoods ingredients are arranged on the name under various restrictive mixes, however I am exceptionally satisfied to see that the Superfood mix is evaluated into every particular ingredient. THIS ALMOST NEVER HAPPENS!
The Nutrient-rich Super Food Blend (1735mg) contains Organic grain grass juice powder (1250mg), natural spirulina powder (300mg), Chlorella (broke cell) (100mg), spinach leaf powder (83mg), Policosinol (2mg); let me state it once more, this is a disclosure to discover such a great amount of straightforwardness on the name!
The Non-Dairy Probiotic Cultures professes to contain 18 billion probiotic microscopic organisms from five unique strains of microbes;
Cancer prevention agent exclusive mix (1430mg) containing acerola, milk thorn, green tea remove, grape seed, ginkgo biloba;
Adaptogenic and Metabolic Herbs mix (2808mg) contains horsetail, licorice, ginger, parsley, astragalus and echinacea;
Filaments (1225mg, for example, apple gelatin;
Fitting and Support Herbs (exclusive mix – 1475mg) containing aloe vera leaf powder, beetroot powder and watercress leaf powder;
Stomach related compounds (exclusive mix – 200mg)
One of the cases of this specific item is that one glass contains five servings of foods grown from the ground – this isn't unordinary for a greens/vegetables powder to guarantee, yet I do discover it fairly deceptive.
..one glass contains five servings of products of the soil – this isn't irregular for a greens/vegetables powder to guarantee, yet I do discover it to some degree deceiving.
There are clearly a large number of different ingredients in this mix, not simply foods grown from the ground, and all things considered the veggies servings must be weakened to some degree. Could a greens mix be all things? Wealthy in protein, fiber, probiotics, superfoods, the rundown is apparently perpetual!
Taste of Macro Greens Superfood
They state it themselves on the tin – they're casted a ballot the 'best tasting greens' so how does the flavor of Macro Greens superfood stack up?
I've investigated what individuals state about the flavor of MacroLife Naturals Macro Greens.
One analyst claims it is:
delectable – it tastes a great deal like a milder rendition of Athletic Greens, which is a standout amongst other tasting greens powders I've attempted. It's very gentle, and despite the fact that it's without dairy it tastes both rich and somewhat fruity, practically like a berry yogurt. It's unquestionably extraordinary compared to other tasting greens powders I've attempted, however, it's mellow enough that it can vanish into any smoothie.
While another (on Amazon) just gives one star – 'tastes horrible'.
Similarly, as with most super greens mixes, you would need to have a thought what the normal taste would be, else you could take a stab at mixing it with a smoothie or into an alternate formula.
The MacroLife Naturals site suggests that you don't mix with citrus juice (as this will dispense with the viability of solid gut microscopic organisms, clearly).
Side-Effects of Macro Greens Superfoods
This item stands separated from some other super greens mixes in that it contains stomach related proteins. These may aid stomach related wellbeing, alongside the probiotic mix.
There has been a lot of research on the viability of probiotics, and the outcomes are subjective depending on each person's preferences (in a manner of speaking), yet all things considered, taking microscopic organisms is for the most part successful for treating explicit stomach related tract issues, for example, the runs.
To peruse increasingly about this you can look online here
One analyst ('example of overcoming adversity' from the MacroLife Naturals site) guarantees that her 'end is normal' because of this item.
The proof behind taking a probiotics in super greens however is in no way, shape or form definitive however!
Does Macro Greens Superfood Actually Work?
Cited on their site as 'totally nutritious, forms wellbeing and scrubs the framework', this is obviously hard to measure. I guess it would depend on what you set out to accomplish with the greens mix.
Individuals appear to take these items for such plenty of reasons, and discover medical advantages from all points: from more grounded hair and nails to better inside wellbeing, weight reduction, less headaches, expanded vitality, better rest. The rundown is apparently unending.
In any case, this to me is the intensity of showcasing. In the event that you tell somebody, they will have seen benefits in the event that they supplant something they are now eating or taking with your item, they are probably going to search for results.
Large scale Greens Superfoods mix is by all accounts somewhat low in the amount of ingredients, so I question how viable the consequences of taking specific ingredients would be.
For me, the Macro Greens Superfoods mix is by all accounts somewhat low in the amount of ingredients, so I question how successful the aftereffects of taking specific ingredients would be. Maybe that implies this isn't the mix for me. Anyway, I do need to state again that I was so shocked to locate the straightforward marking here.
Spirulina powder organic take, for instance, the Organic Barley Grass (1250mg) utilized in this superfoods mix. I battled to discover any data on this on my go-to science-based data site Examine. I do anyway discover an abundance of data on drugs website which suggests taking 15g every day for an impact on bringing down cholesterol.
The following most-powerful fixing in the Macro Greens Superfoods mix is spirulina (300mg) which has a better than average review on Examine.com however again suggests between 1-8g admission every day for medical advantages.
In this way, the truth of the matter is the two fundamental ingredients in this enhancement are well underneath the prescribed serving add up to be compelling.
Customer Reviews of Macro Greens Superfood
As I have referenced there are a lot of 'examples of overcoming adversity's to peruse on the MacroLife Naturals About Us pages. I've additionally investigated the reviews on Amazon just to ensure I have a fair perspective on the items – this is significant as I don't feel the MacroLife site is the most legit and unbiased spot to proceed to search for reviews.
There are 658 reviews of MacroLife Naturals Macro Greens Superfood 30 oz on Amazon at the hour of composing, and 549 are sure reviews. An example of these are beneath;
Superb quality – generally excellent worth
The most perfectly awesome green beverage I've at any point had
Made a decent attempt to work with the flavor of thiscan't do full portion
Love the vast majority of the ingredients however this has a solid stevia enhance which I couldn't care less for
Similarly as an aside there is a live issue right now with items which may (or may not) contain lead. A significant number of the remarks and reviews on Amazon are worried about this, and a zone of the MacroLife Naturals site manages a portion of these worries. I won't go into it however you can peruse increasingly here.
Money-Back Guarantee/Returns Policy
I attempted to discover data on any cash back or returns approach on the MacroLife Naturals site, yet I needed to do a touch of burrowing. Initially there is no drop-down menu so I entered it into the hunt box and no outcomes were found.
So I expect there is no such assurance else they would advance it! This is extremely poor and to some degree astounding when I haven't seen an every day green enhancement that doesn't bolster their item by an assurance.
Place to Buy Macro Greens Superfood
Large scale Greens are accessible on the MacroLife Naturals site and furthermore at Amazon.com
In the event that you purchase through the MacroLife Naturals site and take an interest in the Club MacroLife visit purchaser plot you profit by 30% rebate in addition to free transporting.
Is Macro Greens Superfood Worth the Price?
This is a moderately economical item at $49.50 USD for 30 servings (10 oz) on the MacroLife Naturals site, with the additional advantage that you can buy an entire 90-day supply ($114.95 USD for 30 oz).
It's impossible you would need to reorder every now and again and that to me is a reward. There are additionally singular servings and a 6-servings (2 oz) tub accessible on the MacroLife Naturals site which I find engaging in the event that you needed to attempt without purchasing a full tub.
On Amazon the value is around $60 USD for the 30 oz tub.
Large scale Greens does exclude as a significant part of the most strong ingredients as I might want to find in my super greens detailing
I like the way that you know (somewhat more about) what is inside the tin because of the fixings posting, yet having said that Macro Greens does exclude as a significant part of the most powerful ingredients as I might want to find in my super greens definition.
My MacroLife Naturals-Macro Greens Review
As for my concern, Macro Greens is a good product in the market. Some of the customers reported that Macro Greens contains lead, it is the water-soluble lead, does not cause ill effects to the body and it does not have consistency in the taste and the color. But many of the customers felt healthy and increase in the energy after consumed Macro Greens.
So it is better to try to see their own result.
My MacroLife Naturals-Macro Greens Final Verdict
"Our Health Always Much More Valuable After We Lose It."
Health is one of a precious thing in this world. Health value only comes to know when one lost it. In order to don't lose health, one should take healthy foods and limit cravings for unhealthy ones. This leads to a happy and fantastic life.
Let's Check Out Here
MacroLife Naturals-Macro Greens- Amazon.com