Rank: 8/10
Description: Garden of Life Raw Organic Perfect Food Green Superfood conisist of nutrient dense, naturally grown, raw fruits and vegeatble juices to get the most of the nutrients to the body in day to day lives.
Pros: Garden of Life Green Superfood provides the body with raw energy from the raw fruits and vegetables.
It is Non-GMO(Genetically Modified Organism) and certified by USDA(United States Department of Agriculture).
Garden of Life Perfect Green Superfood consists of essential amino acids, enzymes, fatty acids, poly nutrients, and antioxidants helps to maintain a healthy immune system, healthy metabolism, healthy digestion and increase in the overall health of the body.
It consists of probiotics and enzymes to maintain a better digestive health and it is vegan, certified organic and dairy free. It does not consists of fillers, preservatives and any kind of hazardous ingredients.
Cons: Garden of Life Perfect Green superfood taste is not good. It is earthy in taste.
Recently Garden Of Life brand is brought by Nestle, most of the customer don't trust Nestle, this caused disappointment to the Garden Of Life customers.
Guarantee: No Money Back Guarantee
Price: $29.96
Product Description
Garden of Life Green superfood is packed with lots of nutrients. It consists of all the nutrients needed by the body. It is certified Non-Gmo and certified by USDA( United States Department of Agriculture). It consists of lots of vegetable juices and sprouts in the powdered form to get all the nutrients needed by the body.
Especially grasses of Garden of Life Green Superfood are made into juice and dried immediately within the hour of harvesting. This quick process helps to retain all the goodness and nutrients of the grasses without losing nutrients. This proves how the Garden of Life Products produces in the standardized process.
Foundation on Garden of Life
Garden of Life is the brand, they manufacture vitamins, probiotics, meal supplements, and protein powder. They started with real food. so Garden of Life is the good brand their product proved their result, their customer really like their product, but recently Garden of Life was brought by Nestle, this brings disappointment to their customers
Garden of Life had lots of certificates by certified vegan, certified gluten-free, certified by Star-K Kosher, U Kosher, Informed Choice, LEED Gold, Green-e Energy and certified by B- Corp. This certificate proves that the Garden of Life built its products in the standard process and it is safe to consume and lead a better healthy life.
Supplement Facts of Garden of Life Green Superfood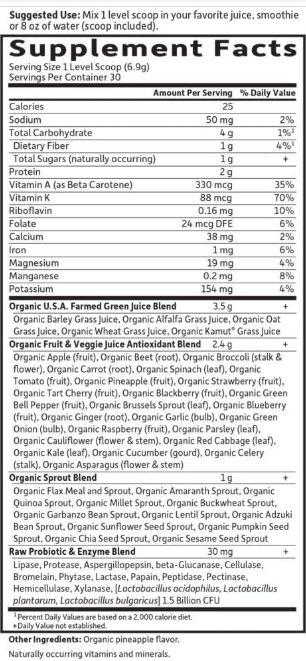 Ingredients of Garden of Life Green Superfood
Organic U.S.A. Farmed Green Juice Blend 3.5 g
Organic Barley Grass Juice, Alfalfa Grass Juice, Oat
Grass Juice, Wheat Grass Juice, Kamut Grass Juice
Organic Fruit & Veggie Juice Antioxidant Blend 2.4 g
Organic Apple, Organic Beet, Organic Broccoli, Organic Carrot, Organic Spinach, Organic Tomato, Organic Strawberry, Organic Tart Cherry,
Organic Blackberry, Organic Green Bell Pepper, Organic Brussels Sprout, Organic Blueberry, Organic Ginger, Organic Garlic, Organic Green Onion, Organic Raspberry, Organic Parsley, Organic Cauliflower, Organic Red Cabbage, Organic Kale, Organic Cucumber, Organic Celery, Organic Asparagus
Organic Sprout Blend 1 g
Organic Flax Meal, Organic Amaranth, Organic Quinoa, Organic Millet, Organic Buckwheat Organic Garbanzo Bean, Organic Lentil, Organic Adzuki
Bean, Organic Sunflower Seed, Organic Pumpkin Seed, Organic Chia Seed, Organic Sesame Seed.
Raw Probiotic & Enzyme Blend 30 mg
Lipase, Protease, Aspergillopepsin, beta-Glucanase, Cellulase,
Bromelain, Phytase, Lactase, Papain, Peptidase, Pectinase,
Hemicellulase, Xylanase, [Lactobacillus acidophilus, Lactobacillus
plantarum, Lactobacillus bulgaricus] 1.5 Billion CFU
Benefits of Garden of Life Green Superfood
Benefits of Organic Green Juice Blend
Organic green juice supplies the body with plant nutrients and chlorophyll. Chlorophyll helps to maintain a healthy immune system, reduce inflammation, helps in the production of red blood cells and increase the oxygen-carrying capacity of the cell.
Benefits of Organic Fruit and Vegetables Anti-Oxidant Blend
Anti-oxidant helps the body cell to protect against free radical. This free radical formed due to change in lifestyle, environmental factors, pollution or during broke down of food. This free radical may lead to cancer, heart disease, and many diseases. This anti-oxidant helps to prevent free radical formation.
Benefits of Organic Sprout Blend
Organic sprout helps in better digestion because it consists of living enzymes and it also helps to increase blood circulation, better immune system, better eyesight, regulate acidity and helps the heart to function properly.
Benefits of Raw Probiotic and Enzyme Blend
Probiotic and enzymes are needed by the body for healthy digestion and bowel system. Digestive enzymes are naturally occurring substances needed by the body to break down the food. Probiotics along with enzymes help to treat gas, bloating, abdominal discomfort and lactose intolerance.
Taste of Garden of Life Green Superfood
Garden of life green superfood customer said that the taste is green or earthy and it is unpleasant to drink but if you blend it with other substances it is delicious to drink.
Side-Effects of Garden of Life Green Superfood
Garden of Life Green Superfood customers complained that they felt stomach upset after consumed it, but it is a common process first to clean the stomach for a healthy bowel system afterward customer felt good and have a better bowel system.
Does the Garden of Life Green Superfood Actually Work?
Garden of Life Green Superfood consists of a number of fruits, vegetables, sprouts, enzymes, and probiotics. This whole nutrition helps to build a healthy body. Garden of Life Green Superfood customers felt better digestion and an increase in overall energy after consuming it. It proves the Garden of Life Green Superfood worked.
Customer Reviews of Garden of Life Green Superfood
Positive Reviews
5 Star Review
Bad Taste Reviews –
"So, you are considering this item, contemplating a purchase, but find a lot of negative reviews about the taste. Thenthere are several other reviews that compliments the taste as being natural or earthy. So, here is the lowdown:
It does not taste like anything you have had. The reason? You merely don't consume this many distinct ingredients in everyday life. The mix of numerous plant-based tastes is exceptional, and true, somewhat embarrassing to the taste buds to procedure. It tastes odd. But it does not taste horrible.
What a lot of people don't know, is that the notion of taste is psychological. Parmesan clinically tastes quite like smoke. Can you believe some new parm in your salad tastes horrible?
Back to the powder… it actually tastes like ground. It's earth. You have to go to it expecting it will taste like wellness, character, earth and above all, it is going to taste odd. You will want to adapt.
If it tastes absolutely bad for you, I'm somewhat sorry for you. All this means is that you are prepared to think things such as Muscle Milk, Vitamin E, Visalus, and other crap"health" foods taste great.
There's not any Splenda in this to hide the taste. There's not any vanillin to fool your mind.
This is exactly what food tastes like. It is not tough to retrain your taste buds, and in case you are giving this a one-star score then you might simply have to repaint your buds.
It isn't terrible. It is nature at its best. I applaud this new for producing a no-nonsense food powder centered on wellness, also on health independently.
– Amazon Customer
5 Star Review
It made my sickly kid thrive!
"I have an extremely picky two year old and discovering ways to have fruits and vegetables in him is extremely hard. In the beginning, I was quite reluctant (he had been too ) due to the appearance and smell are simply dreadful.
I place a very small piece in his coconut yogurt and additional dark chocolate chips along with the child gobbled this up! He adores it. This is a child who's so picky he won't actually get beef, pasta, or other interesting kid foods. If he enjoys this product than that I could practically guarantee you will also.
The most wonderful part about the item is that his health has improved tremendously. He was a really ailing child, he spent his entire life in and from the hospital, and he has the most powerful immune system of everybody in our home. I'm forever thankful!"
-Amazon Customer
Negative Customer Reviews
1 Star Review
Seriously??
"I have been drinking this beverage for a couple of decades now. I'd stopped drinking it since I could not manage it for a short time. Well, I return to purchasing and not only can it be more costly, but there is less merchandise!!!!! I've (ideally ) one scoop left and that's just been 23 servings. Seriously??? Like, alter the tag then. Say"about" 24 servings.
I'm Very UPSET AND DISAPPOINTED. PLEASE FIX IT OR I WILL FIND ANOTHER
.
I subscribed to the for each 30 days. I have 12 days to go!! This didn't survive me 30 days! I am so angry."
-Amazon Customer
Money Back Guarantee
Garden of Life Green Superfood did not have any money-back guarantee.
Place to Buy
Garden of Life Green Superfood could buy in amazon.com
Does Garden of Life Green Superfood Worth to Buy?
Garden of Life Green Superfood available in three packs for original flavor
0.24 ounce (Pack of 15)
7.3 ounce (Pack of 1)
14.6 ounce (Pack of 1)
The most popular pack is 7.3-ounce pack, it cost approximately $4.07 per ounce, this may be costly when compared with other product in the market but it delivers the nutrients to the body according to the cost, it proves Garden of Life Green Superfood is worth to buy.
My Garden of Green Superfood Review
As for my concern, it is the good superfood in the market, some of them complained that its taste not good and recently Garden of Life Brand is bought by Nestle, most of the Garden of Life customer don't trust Nestle but many of the customer felt good and increase in the overall energy in the body, it also leads to better digestion and healthy bowel system. It is better to try to see the own result.
My Garden of Life Green Superfood Final Verdict
" A Healthy Outside Starts From the Inside"
If one would like to become healthier outside, he should first make healthy inside, by eating better and healthy food makes the inside body more healthy. This leads to an energetic and patient life.
Let's Check Out Here
Garden of Life Green Superfood- Amazon.com